Amazon will pay more than $61.7m to settle US Federal Trade Commission charges that it failed to pay US-based Amazon Flex drivers the full amount of tips they received from Amazon customers over a two and a half year period. The FTC's complaint alleges that the company stopped its behaviour only after becoming aware of the FTC's investigation in 2019.
How much is the Flex driver tip compensation pool?
The $61.7 million represents the full amount that Amazon allegedly withheld from drivers and will be used by the FTC to compensate drivers.
Amazon will also be prohibited from misrepresenting any driver's likely income or rate of pay, how much of their tips will be paid to them, as well as whether the amount paid by a customer is a tip.
Amazon also will be prohibited from making any changes to how a driver's tips are used as compensation without first obtaining the driver's express informed consent.
What is Amazon Flex?
Amazon Flex is a programme in which drivers, classified by Amazon as independent contractors, can agree to make deliveries using their personal vehicles. Flex drivers deliver goods and groceries ordered through the Prime Now and AmazonFresh programmes, which allow customers to give the drivers a tip in the US.
The Freelance Informer asked Amazon Flex UK's driver hotline if there are similar options in the UK for customers to tip Flex drivers, but the Customer Service line operator that took our call was not aware if UK drivers even had tips as an option. The Amazon Press Office also did not respond to a request for details and a statement at the time of going to press.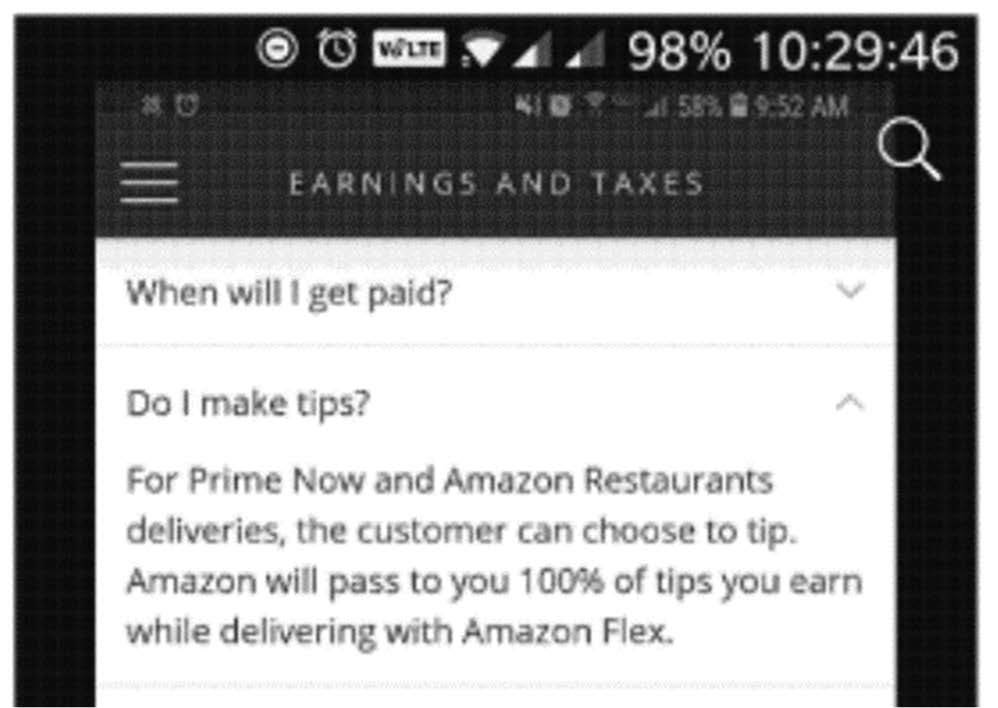 Where did the tips go?
According to the FTC's administrative complaint against Amazon and its subsidiary, Amazon Logistics, the company regularly advertised that drivers participating in the Flex programme would be paid $18–25 per hour for their work making deliveries to customers.
The ads, however, along with numerous other documents provided to Flex drivers, also prominently featured statements such as: "You will receive 100% of the tips you earn while delivering with Amazon Flex."
"Rather than passing along 100 percent of customers' tips to drivers, as it had promised to do, Amazon used the money itself. Our action today returns to drivers the tens of millions of dollars in tips that Amazon misappropriated, and requires Amazon to get drivers' permission before changing its treatment of tips in the future."

Daniel Kaufman, Acting Director of the FTC's Bureau of Consumer Protection
The FTC's complaint alleges that, in addition to telling drivers they would receive 100 percent of their tips, Amazon also assured its customers that 100 percent of any tips they paid would go to the driver.
In late 2016, the FTC alleges, Amazon shifted from paying drivers the promised rate of $18–25 per hour plus the full amount of customer tips to paying drivers a lower hourly rate, a shift that it did not disclose to drivers. Amazon used the customer tips to make up the difference between the new lower hourly rate and the promised rate. This resulted in drivers' being shorted more than $61.7 million in tips.
"The FTC alleges that the company then intentionally failed to notify drivers of the changes to its pay plan and even took steps to make the changes obscure to drivers, with one employee reporting to colleagues that Amazon "did not want to communicate any pricing changes to [drivers], so we are only 'reacting' to any questions." After making the change, the company continued to promise drivers and customers that 100 per cent of tips would be passed through to drivers," the FTC reported in a statement.
How many complaints?
Amazon received hundreds of complaints from drivers, according to the FTC, after enacting the change, as drivers became suspicious when their overall earnings decreased. Drivers who complained received form e-mails falsely claiming that Amazon was continuing to pay drivers 100 per cent of tips.
How did Amazon respond to drivers?
Internally, Amazon employees referred to the company's handling of the change and driver complaints about it as an "Amazon reputation tinderbox" and "a huge PR risk to Amazon."
According to the FTC's complaint, Amazon continued using the new pricing model despite complaints from drivers and negative media coverage until August 2019—after the company received notice of the FTC's investigation. At that time, Amazon returned to a pay model where it pays drivers an identified base amount plus 100 percent of tips and gives the drivers a breakdown of their pay and tips.
Where to get updates on Amazon Flex tip refunds?
Amazon drivers can sign up for email updates on the status of the refund process in the case here.
---
News of the mass driver payout comes as Amazon co-founder Jeff Bezos steps down as CEO and hands over the reigns to Andy Jassy.
The transition will take place in Q3 when Bezos will become Executive Chair of the Amazon Board. In that new role, he intends to focus his "energies and attention on new products and early initiatives". Jassy, who according to Bezos is well known inside the company, has been at Amazon almost as long he has. Amazon started 27 years ago.
The Amazon founder signed off his transition letter to staff: