Scammers often use tax deadlines to target victims/ Photo by Tara Winstead via Pexels
HMRC issues scam warning to tax credits customers and a reminder that scammers use deadlines
HMRC has issued a warning to tax credits customers, who are renewing their tax credits claims, to be alert to scammers trying to steal their information. There's a good reason why.
According to the National Cyber Security Centre, HMRC was the third most spoofed government body in 2022, behind the NHS and TV Licensing.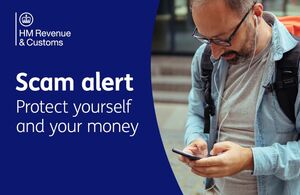 If you are owed tax credits you need to be on your guard against fraudsters, says HM Revenue and Customs (HMRC) which has reported the latest tactics being employed by scammers.
HMRC has issued a new alert, providing details of a number of new scams reported that aim to trick people into handing over money or personal information.
"Criminals use deadlines – like the tax credits renewal deadline on 31 July – to target their victims and the department is warning around 1.5 million tax credits customers to be alert to scams that mimic government communications to make them appear genuine," said HMRC in a report.
Typical scam examples include according to HMRC:
Emails or texts claiming an individual's details aren't up to date and that they risk losing out on payments that are due to them
Emails or texts claiming that a direct debit payment hasn't 'gone through'
Phone calls threatening arrest if people don't immediately pay fake tax owed
Claims that the victim's national insurance number has been used in fraud
Emails or texts offering spurious tax rebates or bogus grants or support
Myrtle Lloyd, HMRC's Director General for Customer Services, said:
"Tax scams come in many forms and we're urging customers to be alert to the tactics used by fraudsters and never to let yourselves be rushed.
"If someone contacts you saying they're from HMRC and asks you to give personal information or urgently transfer money, be on your guard. Search 'HMRC scams' advice on GOV.UK to find out how to report scams and help us fight these crimes."
HMRC will never ring anyone out of the blue making threats or asking them to transfer money
Scam messages can be convincing, and individuals may be pressured into making rushed decisions. HMRC will never ring anyone out of the blue making threats or asking them to transfer money.
HMRC is also urging tax credits customers to be alert to misleading websites or adverts asking them to pay for government services which are free, often by charging for a connection to HMRC helplines.
HMRC is currently sending out tax credits renewal packs to customers and is reminding anyone who has not received theirs to wait until after 15 June before contacting HMRC.
Customers can renew their tax credits for free via GOV.UK or the HMRC app.
Help and support is available on GOV.UK to help renew tax credits claim.
Visit GOV.UK for information on how to report a scam or suspicious activity.
What are working tax credit and child tax credit?
There are two tax credits – child tax credit and working tax credit. You can claim one or both of them, depending on your household circumstances. HM Revenue & Customs (HMRC) deals with claims for tax credits. That's according to the Low Income Tax Reform Group.
The LITR says:
Working tax credit (or WTC) is paid to people who work and are on a low income – it does not matter whether you are an employee or self-employed. You do not need to have children to get WTC.
Child tax credit (or CTC) is paid to people who have children. It is paid in addition to child benefit and you do not have to be working to get it.
There are different qualifying conditions for working tax credit and child tax credit, but you only use one claim.
What's changing about tax credits?
By the end of 2024, tax credits will be replaced by Universal Credit. Customers who receive tax credits will receive a letter from the Department for Work and Pensions (DWP) telling them when to claim Universal Credit. It is important that customers claim by the deadline shown in the letter to continue receiving financial support as their tax credits will end even if they decide not to claim Universal Credit.
The government is offering Help for Households. Check GOV.UK to find out what cost of living support individuals could be eligible for.
HMRC is also warning people not to share their HMRC login details with anyone else. Someone using these could steal from the account owner or make a fraudulent claim in their name and leave customers having to pay back the full value of any fraudulent repayment claim made on their behalf.
Further information
Find out more about renewing tax credits claims.
HMRC's advice:
Protect
criminals are cunning – protect your information
take a moment to think before parting with your money or information
use strong and different passwords on all your accounts so criminals are less able to target you
Recognise
If a phone call, text or email is suspicious or unexpected, don't give out private information or reply, and don't download attachments or click on links
Check on GOV.UK that the contact is genuinely from HMRC
Do not trust caller ID on phones. Numbers can be spoofed
Report
If you're unsure about a text claiming to be from HMRC forward it to 60599, or an email to phishing@hmrc.gov.uk. Report a tax scam phone call on GOV.UK
Contact your bank immediately if you've had money stolen, and report it to Action Fraud. In Scotland, contact the police on 101
By reporting phishing emails, you help stop criminal activity and prevent other people falling victim