"The government's lack of support for directors has effectively demonised a class of businesses that support 7.5m UK jobs, which will be lost if these companies fail," writes Claer Barrett, a Financial Times Serious Money columnist.
Barrett opines that the Tory party that has historically "championed entrepreneurship" is now in a jarring political move that has repeatedly refused to help an estimated 3m self-employed freelancers and limited company directors who have been largely excluded from coronavirus support schemes.
Unpredictable cash flows
"Some 2m directors of small companies failed to qualify because of their accounting structure — typically a small PAYE salary, and a variable dividend depending on their annual profits," said Barrett.
"This is a perfectly legitimate, widely used structure," she said. "Accountants don't advise you to incorporate your business as a limited company as a means of dodging tax, but as the most prudent way of managing unpredictable cash flows — which are stock in trade for those running their own businesses."
She continued, "Tax experts say that paying dividend tax, corporation tax, VAT and other taxes offer very little savings overpaying income tax and national insurance."
The Chancellor has been intentional in his decision to exclude these taxpayers and has done so since March, as previously reported by The Freelance Informer. When asked why he has excluded the group in televised interviews, he shoots off statistics of funding that has been provided to other groups or to general public funding or by some extended proxy been beneficiaries of the wider funding.
Based on Mr Sunak's stance, company directors of small businesses can only surmise that he has a very different picture in his mind of what company directors look like, perhaps lumping them in one group, from his own experience of public sector consultants or his pre-political days in the investment sector.
In reality, as Barrett points out in her piece, many small and micro companies are home-based, run from kitchen tables, sheds and vans. Yet the lack of physical premises means owners have also been excluded from grants delivered via the business rates system.
Despite community lobby groups, such as #ExcludedUK and #ForgottenLtd, urging to meet with the Chancellor, he has not met with these groups. Yet, in a broadcast interview, he has said that he has been in communication with these groups, but according to an ExcludedUK Twitter post the group stated this is not the case:
Please can everyone tag their MP and let them know that we have categorically NOT met with @RishiSunak or his team even though we've reached out thousands of times. MP's can make their own mind up if this is the behaviour we should be accepting. #ExcludedUK#peoplebeforepolitics

ExcludedUK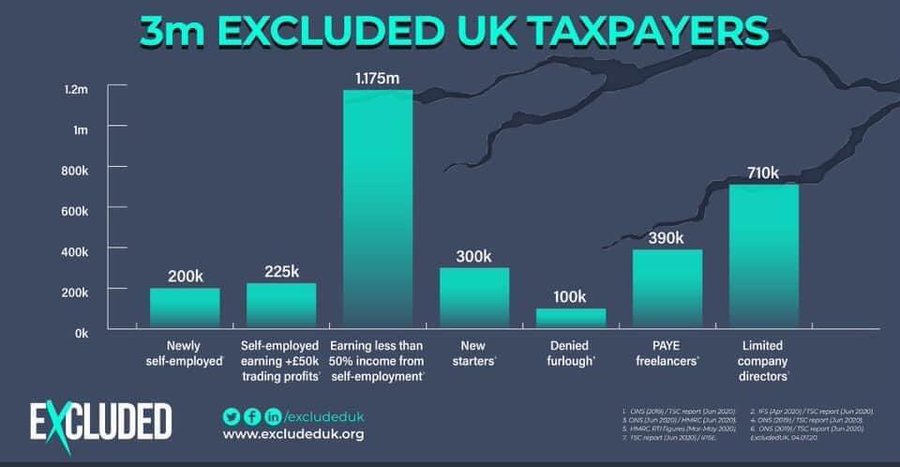 MPs have been equally stumped, such as Emma Lewell-Buck, who can be seen in the video below asking the Chancellor directly about those impacted without support.
The Chancellor has spoken and he's not budging. He's given the snub so to speak.
The UK needs the 3-million-strong to band their skills together and use their passion and courage to create new community-based businesses with fellow self-employed individuals. In the meantime, it may mean doing a series of part-time jobs, reaching out to old contacts, estate agents, schools or even neighbours to offer services, it's what has to be done to survive.
---
Find new ways to save money, such as using the Olio free food app.
Speaking to your utility companies to get a break on payments
Speaking to your local church parish counsellors, which may have funds set aside for community members or families that need a helping hand
Post on community Facebook pages the services you can provide or contact a local church to place an advert in village newsletters
Reach out to The Freelance Informer with your story for an opportunity to have your company, products or services profiled.
Share an idea for a business collaboration with fellow freelancers.