Inside IR35: How do contractors work out their income to apply for a mortgage if their tax status has changed?
Photo by Karolina Grabowska from Pexels
Despite over a quarter (27%) of self-employed renters now seeking to improve their credit to boost their home buying chances, 14% say their credit score has been negatively impacted due to the pandemic, according to Aldermore Bank. These increased challenges have meant over a third (36%) of self-employed renters say they feel buying a home is unobtainable for them right now.
However, if you now anticipating to be working Inside IR35 or have a PAYE contract or work through an umbrella company, then the information you provide when applying for a mortgage can make all the difference when it comes to interest rate or even getting approved at all.
Even if you are purchasing a property with someone who is salaried, if one of you is self-employed or a contractor it is probably wise to go through a specialist mortgage broker, one that understands your full income potential, which means knowing which accounts and documents to submit to an underwriter.
Unlike a salaried employee, there are a number of ways a contractor may want to calculate their income to work out overall borrowing potential, according to CMME, which specialises in mortgages of independent professionals. You can apply by using the following:
Hourly Rate
Daily Rate
Annualised Salary
To calculate any of the above simply follow the formula below:
Hourly Rate x Working hours, per day = Daily Rate
Daily Rate x 260 days (working days) = Annualised Salary (Before tax)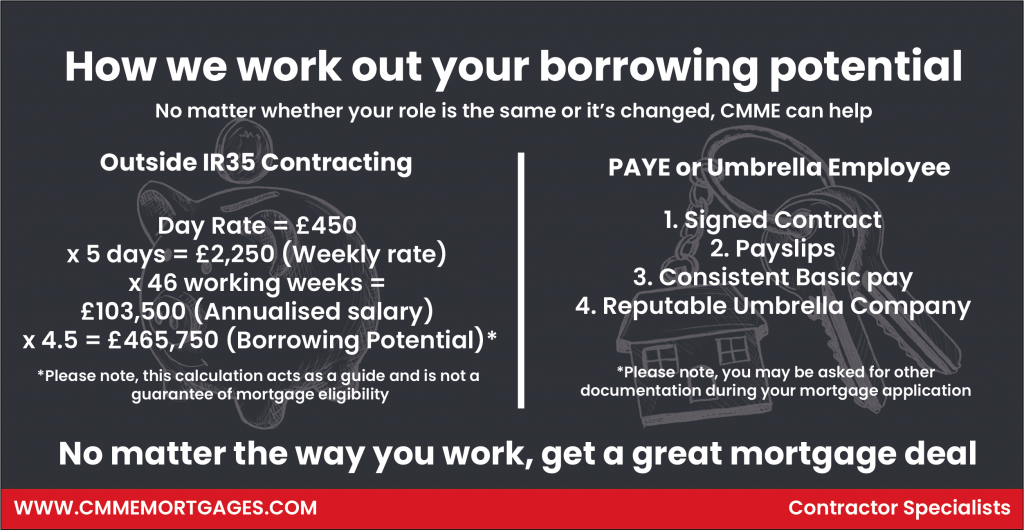 How do contractors determine their role?
With the recent implementation of the changes to IR35, contractors may have some confusion when it comes to their mortgage application and determining their current role. Contractors may be classified as:
Umbrella employee
Umbrella Contractor
Self-employed
PAYE
Contractor
Ltd. Company
"You might face bias in any of these roles if you approach a high street lender, no matter the way you work or if you have switched from one payment vehicle to another," said CMME.
Issues you may face as a contractor
CMME's  2020 research on self-employed homeownership with IPSE, found that 96% of respondents had to provide more paperwork when applying for their mortgage because they were self-employed. 
Even if you use a specialist mortgage broker does not mean you can only have access to contractor-only mortgages. CMME has said that specialist brokers can not only help you to raise the borrowing you require for a mortgage, but it also provides you with access to high street lenders and therefore gives you the range of low-level interest rates that would normally be unavailable when looking at a contractor mortgage (PAYE or otherwise).  

Remortgage for Contractors
Reasons to consider remortgage:
1. Save money
2. Prioritise your wants, needs and goals
3. Leave a legacy, not a debt
Reasons to not consider remortgage:
1. You just secured a new deal
2. You are concerned about early exit fees
It's important to know that many people let early exit fees stop them from getting the best deal available – whilst exit fees are something you should consider before changing deals, it is frequently the case that the associated savings with your new mortgage rate could be worth accounting for the early exit fees. 
Mortgage Rates
If you are going through a broker, always ask about any exclusive deals they have with lenders and how those rates compare to others; fees with certain lenders; and broker fees and how they may change based on your contractor role
| | | | | | | |
| --- | --- | --- | --- | --- | --- | --- |
| Provider | Product Type | Initial Rate | Rate Ends | Cost for Comparison | Lender's Standard Variable Rate | Redemption Period |
| HSBC | First Time Buyer | 01.14% | 30/11/2023 | 3.2% | 3.54% | 30/11/2023 |
| Coventry Building Society | Offset | 1.35% | 30/09/2023 | 3.9% | 4.49% | 30/09/2023 |
| The Mortgage Works | Buy to Let | 1.19% | 30/09/2023 | 4.5% | 4.74% | 30/09/2023 |
| Platform | Next Time Buyer | 0.99% | 31/10/2023 | 3.9% | 4.34% | 31/10/2023 |
| Hinckley and Rugby Building Society | Discount | 0.99% | 2 years | 4.8% | 5.89% | 2 years |
| NatWest | Tracker | 1.00% | 30/11/2023 | 3.2% | 3.59% | 30/11/2023 |
Source: CMME
Rates accurate as of 04/08/21
Exclusive rates are also available from CMME
Articles you may have missed: