How to plan for a summer abroad working remotely
Remote Work's Chiang Mai Co-working space
If you already work remotely or have the opportunity to over the summer months, then why not consider travelling to an exciting new location? Here are some sites that can help you make that happen.
Remote Year
To get an idea of what's available in remote or digital nomad destinations a good place to start is the website, Remote Year. The site offers pre-arranged trips for remote workers including accommodation, ground transportation, local team support, welcome events and local curated experiences, 24/7 workspaces and all in exciting locations.
There are wellness week-long trips, month-long trips to even full-year hopping the globe trips. The length of stay and location is up to you, your budget will also have some sway, but the reassuring part is that when you do travel to a new destination there will be a sense of community waiting for you with fellow remote workers and Remote Year team leaders.
The only thing better than 1 epic month working remotely around the world? Sharing the adventure with our global community. Meet us in Medellin. Log on in Lisbon. Catch us in Cape Town. Brainstorm in Bali. Whoever you are, wherever you're from, whatever you'd like to explore, there's a place here for you.

Remote Year
While you should always be responsible for your own Visa and travel documentation, the site does offer some good source links to get you started on your destination search.
This July there are one-month journeys still available in Chicago (USA), Antigua (Guatemala), and a Waitlist for Valencia (Spain). The Portugal and Croatia trips are already sold out. This late July and August though there are still spots available for remote working destinations including Chiang Mai (Thailand), Istanbul (Turkey), Mexico City (Mexico) and Lima (Peru).
Working remotely in Chiang Mai is a whole other adventure, where mornings start with bubble tea and Thai-style omelets from the Warorot Market. Explore the silver temple of Sri Suphan before logging on, or try traditional dancing with friends after work. And on the weekend? We'll be splashing around with elephants and heading to Phuket. We'll take care of the details, just show up.
Hacker Paradise
This packaged remote working travel site seems to have more month-long destination options than Remote Year. Trips include Bali (Indonesia), Palermo (Italy), Split (Croatia), Sofia (Bulgaria), Madeira (Portugal) and Kilifi (Kenya), to name a few this summer and well into the autumn and winter. Some of the packages seem cheaper than Remote Year, but may not offer as swish accommodation, but still nice.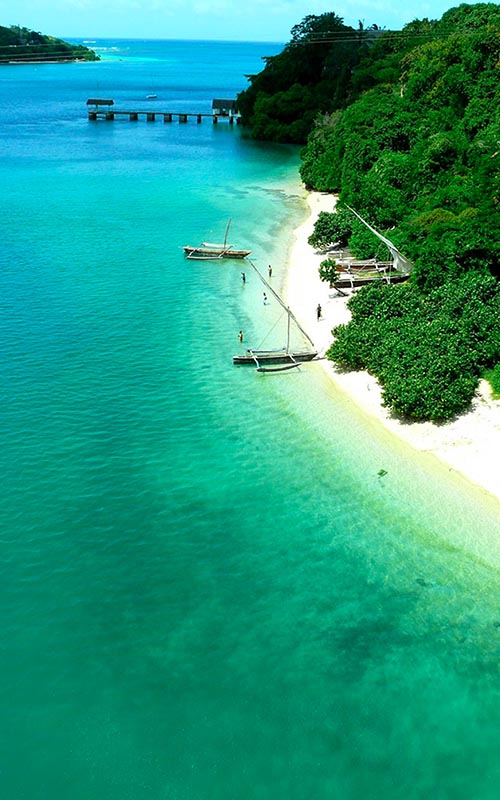 Hop in a tuk-tuk and travel to the picturesque Bofa Beach, or catch the sun setting on the Indian Ocean while perched atop sea cliffs. Converse with the locals, learn some Swahili, and get lost in the simple life.

Hacker Paradise
Making your own plans
There used to be more choices for remote working excursion sites, but some seem to be no longer trading given the inactivity on their social media channels and websites. But another way to find fellow remote workers and still plan a holiday with your family is to know where freelancers and digital nomads gravitate to (see the list of destinations below).
That way, you can work remotely in co-working spaces rather than be stuck in a hotel room while your partner spends time with the kids. And if you are both working remotely, then take shifts or alternate days between working and watching the kids. But always try to carve out precious relaxing and/or family time at lunchtime or in the late afternoon. You can always fit in a beach walk or excursion in the early morning. But that's regardless if you are travelling solo, with a partner or a young family. Make use of nomad communities to find great places to eat and visit or even create an excursion with a group.
While this list is not exhaustive it does give you an idea of which nomad sites are most popular and have digital nomad communities and accommodation already set up. Member sites like Nomadlist categorise hot spots by region and even have nomad meet-ups listed in key cities so you always have the chance to meet other remote workers.
Nomadllist requires you to become a member, which costs just over $100 per year with a discount so look for those on the site). If you plan on travelling solo and want to have the extra comfort of a community to reach out to then it could be money well spent. Members can find out the latest costs per city and access live chat rooms.
Lisbon, Portugal
Barcelona, Spain
Tampa, Florida
Miami, Florida
Split, Croatia
Austin, Texas
Chiang Mai, Thailand
Cape Town, South Africa
And many more…
If you do decide to work remotely abroad this year, tell us how it went or share a photo of you living it large this summer on editor@freelanceinformer.com